Detailed Explanations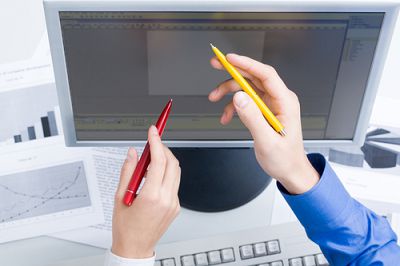 The PM Exam Simulator not only provides high-quality questions that are very exam-like, it also clarifies each exam you take. It provides a detailed exam report (on-screen and via email), has a detailed explanation for all the answers and even offers per answer choice explanations. A reference allows you to read up on the subject in more detail.
A good best practice is to spend just as much time going over your results as you spent in taking the exam. For example, if you spend three hours on a full exam, then you should spend another three hours reviewing all incorrectly answered questions.
Detailed Exam Report
After you complete an exam or timed/learning quiz you are provided with a detailed exam report. This report is displayed on screen and also emailed to your address on file. (Email can be turned on/off). The report is slightly different depending if you are viewing it for the Project Management Professional (PMP)®, PMI Agile Certified Practitioner (PMI-ACP)® or Certified Associate in Project Management (CAPM)® Exam. It includes the following sections:
| | | | | |
| --- | --- | --- | --- | --- |
| Section | Contains | PMP® Report | PMI-ACP® Report | CAPM® Report |
| Summary | Brief summary of your exam results. | | | |
| Detailed Results | Detailed exam report for each question, including your answer, correct answer, marked, domain, knowledge area, and time taken. | | | |
| By Domain / Chapter | This section reproduces the official Project Management Institute (PMI)® Exam report. For each of the domains you will see whether you are proficient, moderately proficient or below proficient. For CAPM the result is listed "By Guide Chapter". | | | |
| By Knowledge Area | This section offers PMP students a results overview by Knowledge Area, allowing you to focus in on specific topics. | | | |
Detailed Explanations
The simulator clarifies each question in detail because in order to understand the correct answer it is often not enough to simply know that "B is correct". You may also want to understand why A, C and D are not correct. This is achieved by providing a detailed explanation for each question. On average this explanation is 61 words in length. The longest one you'll find is 698 words long!
The answer commentary is highly valued by our students because it helps you understand the concepts and thinking behind each question. It allows you to quickly understand why you may have chosen the wrong answer and learn from it.
Per Answer Choice Explanations
The questions even include per answer choice explanations for many of the questions. This means that there is not only a general explanation for the question as a whole, but then you also get a short explanation for each of the four answer choices (A, B, C and D). This allows you to see why a particular answer choice is correct or incorrect.
Reference
Each question also includes a relevant reference. For PMP and CAPM this reference usually points you to A Guide to the Project Management Body of Knowledge (PMBOK® Guide), and for PMI-ACP it points you to one of the books that PMI® includes as part of the exam "Reference Materials". Having a reference with page number allows you to read up on a subject you want to study in more depth.
Screen Shot
This screen shot shows a CAPM question, as you see it in the review mode after completing an exam: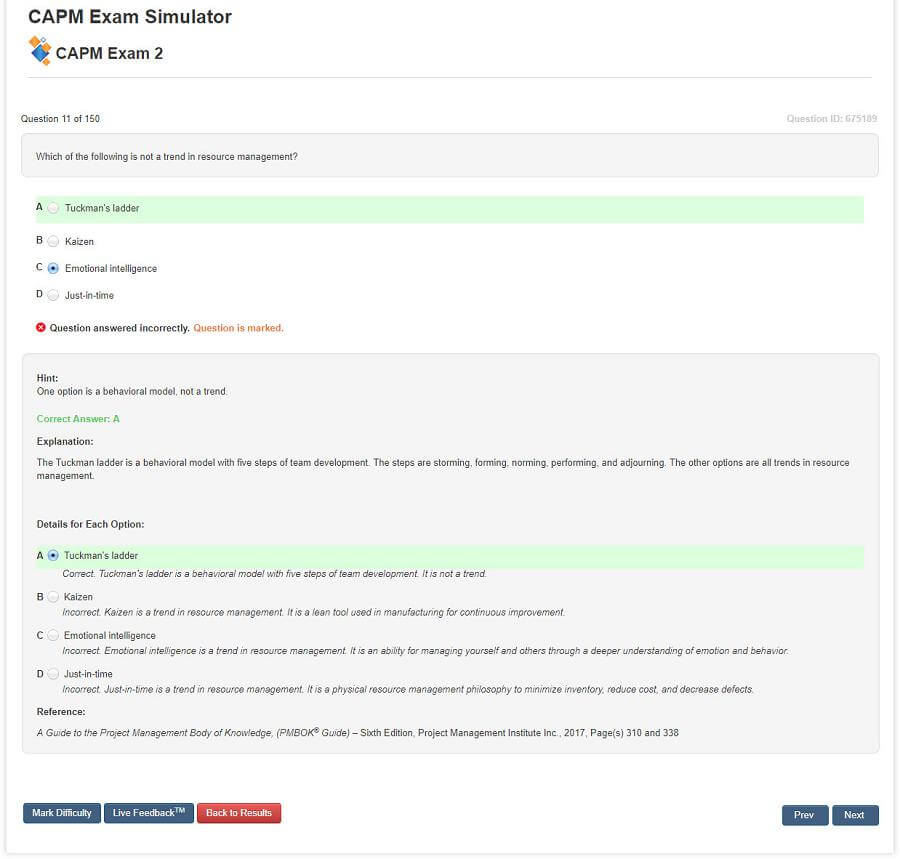 The question is repeated at the top and the correct answer is highlighted. The gray box below includes a section for "Explanation" and "Reference".
We first see a general explanation of the concept that underlies the question, followed by the per answer choice explanation where you learn exactly why an answer is correct or incorrect.
Finally the reference indicates where you can read up on the topic.