Learn how to Earn 35 Contact Hours for Your PMP® Exam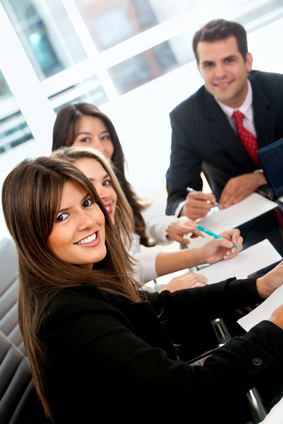 Please note that The PM Exam Simulator does not qualify for contact hours. This is because only "instructional training" qualifies toward contact hours. This includes both classroom training and online/virtual training activities. Simply using a simulator doesn't count.
Here is how PMI defines the term:
Contact Hour Definition
One hour of classroom instruction equals one contact hour.

Project Management Institute
In other words: For each hour that you sit in a training session about project management you receive one contact hour. The good news is that you will be surprised to find out that you probably already have a lot of these contact hours to your name and this article will help you understand this better.
So let's begin with a brief overview of all the rules concerning contact hours and then I'll give you a few ideas on how to earn them.
Contact Hour Rules
Here is a summary of the most important rules concerning Contact Hours:
You need 35 Contact Hours for the PMP Exam, 21 for the PMI-ACP® and 23 for the CAPM®.
Contact hours are mandatory. You cannot apply for these PMI® exams without having the required number.
You can only earn contact hours when you received relevant training for your certification. Any training you receive that is unrelated to the normal work that a PMP, PMI-ACP or CAPM usually performs does not qualify. It must be about project management.
You can only claim Contact Hours for training that is completed. Future classes do not count.
Contact hours never expire! So if you participated in an 8-hour long project management class you have earned 8 contact hours, even if this class was 25 or more years back! So look through your old training records and determine which classes you took in the past count. You probably already have a lot of contact hours under your belt.
Earn Contact Hours through Online Training
Online training is fast, convenient and can be done from anywhere you like. Most project management training companies offer online training that you either watch on your computer or download to your phone or tablet.
Online training is usually substantially less expensive than a live class, which is why many people chose this form. However, you have to be self-motivated and disciplined because there is nobody there to hold your hand as you are preparing for the exam.
For online training we recommend the following:
Important: If you take an online class to earn your contact hours, then make sure that this class has a test at the end before you receive the certificate. This is a PMI requirement. If you receive your certificate without a test, then your contact hours do not count!
Earn Contact Hours through Classroom Training
Many training companies offer project management training classes that you attend in-person. Some of this training is more general (Example: "Introduction to Project Management") and some is specifically designed to help you prepare for a PMI Exam (Example: "PMI-ACP Exam Prep Course").
The main benefit of taking a live class is the fact that you are in a real classroom with a live teacher and other students to ask questions and clarify any concepts. The top drawback are the cost and the fact that you are bound to the class schedule.
Recommendation: If the class you are taking is not specifically designed to help you prepare for your desired exam, then contact the provider ahead of time and ask if you will still learn the needed skills for the exam.
Earn Contact Hours at Your PMI Chapter Dinner Meeting
Are you a member of your local PMI chapter and do you attend the chapter dinner meetings? Then you probably already have earned some PDUs.
Dinner Meeting Contact Hours
If at least one hour of a chapter meeting is spent conducting a learning activity, the hour(s) spent in that activity can be counted towards the educational eligibility requirement.

Project Management Institute
In other words, if you attended a PMI dinner meeting and there was a speaker who spoke for at least 60 minutes on the topic of "Introduction to Scrum and Agile" then you have earned one contact hour for your PMP, PMI-ACP or CAPM Exam application.
Read the Complete Guide to Contact Hours
This article here only scratched the surface of what contact hours are all about. Please click the following link to get all the details about how to earn your 35 Contact Hours.
It truly is a complete guide with all the detail you can ask for.